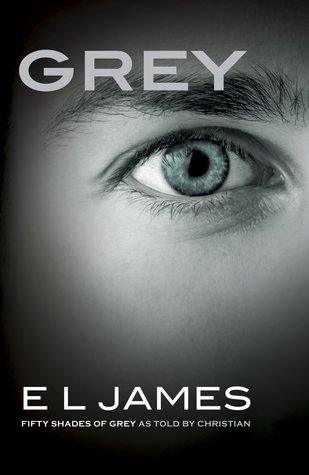 Title: Grey
Author: E L James
Rating:
Smexyness:
Series Continued: yes
Amazon U.S.:
Grey
Jacket:
See the world of Fifty Shades of Grey anew through the eyes of Christian Grey.
In Christian's own words, and through his thoughts, reflections, and dreams, E L James offers a fresh perspective on the love story that has enthralled millions of readers around the world.
Christian Grey exercises control in all things; his world is neat, disciplined, and utterly empty—until the day that Anastasia Steele falls into his office, in a tangle of shapely limbs and tumbling brown hair. He tries to forget her, but instead is swept up in a storm of emotion he cannot comprehend and cannot resist. Unlike any woman he has known before, shy, unworldly Ana seems to see right through him—past the business prodigy and the penthouse lifestyle to Christian's cold, wounded heart.
Will being with Ana dispel the horrors of his childhood that haunt Christian every night? Or will his dark sexual desires, his compulsion to control, and the self-loathing that fills his soul drive this girl away and destroy the fragile hope she offers him?
This book is intended for mature audiences.
Reviews: (Joyce)
I didn't even realize this book was in the works until it was due to be released, and I have to admit I am one of those people who read the original Fifty Shades series over and over again, I guess you can say I am very familiar with Ms. James' work. I did stay away from chat threads regarding this book because I knew it was going to cause a lot of opinions being shared and I didn't want to be influenced.
Grey is a retelling of the Fifty Shades of Grey (Fifty Shades, #1) from Christians point of view. Christian is the wealthy, young business man who feels he is not capable of being loved in the traditional fashion until Anastasia Steele falls into his life. Ana is a ordinary, geeky, graduating literature student who repeatedly who sees more in Christian than his beautiful face and haunted grey eyes. Anna is the perfect match for Christian, although it will take some twist and turns and help from his good friend and psychologist to see that. Will they end up together? Or will it be a cliff hanger like the first book? You will have to read to find out.
I loved the retelling of this story from Christians perspective. We get to learn more about why he is the way he is and more about his tragic start of life. His nightmares, based from true events will tear at your heart and is sure to bring tears to your eyes. One of the things you need to remember if you chose to read this book is that it is a retelling of the first story, so many of the pages, texts and paragraphs shared are exactly as the first book. I loved the text and email banter and how it was presented so it was all good for me. I think it helped to build both their characters in that it gave Ana a bigger voice in the story, Ana seems shy and almost timid when around Christian, and compared to Christian but when she emails she lets her thoughts and feelings shine.
Will I recommend this book? Absolutely! I loved it! Felt similar feelings as when I read the first book the first time.
Bravo E.L. James!!! Please hurry up with the other two POV's and then we want Elliot and Mia's stories too. Pretty please with sugar on top!!!